What size should the pictures to a temporary residence card have?
For applications above, have to be attached: 4 actual, undamaged, colorful photos at 35 x 45 millimeter size, taken  during last 6 months on self and light background, with good focus and showing  eyes and face from the top of the head to the top of the shoulders, 70-80% of the photo must be occupied by a face; a person on the photo must be without head covering or dark glasses, looking straight ahead with open eyes, not covered by hair, with natural face expression and closed mouth.
If a person has a congenital or no congenital eyes defects, may attach to application photos with dark glasses and a person who is wearing a head covering because of religious principles may attach photos with a head covering. This kind of a head covering can not  covering or deforming face oval.
(photos were copied from the poster made by PWPW S.A on MSWiA commission)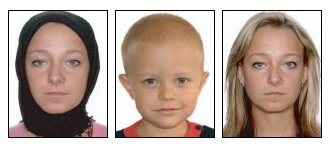 Powrót