"I set up a company in Poland and I got a negative decision for a residence card, why?"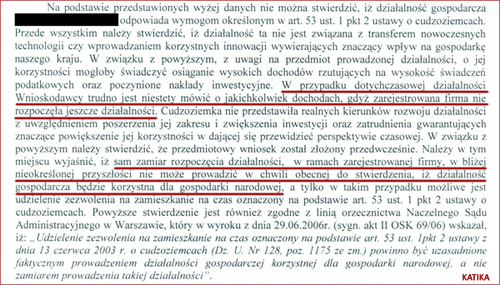 "I set up a company in Poland and I got a negative decision for a residence card, why?"
A residence card issued in connection with running a business is more complicated than in case of employment on the basis of contract of employment. Many people ask us a question "I am going to set up a business, will I get a residence card?". The case is not as simply as it looks like. It is not like that if you have a company in Poland you will get a residence card for sure. The company must meet certain requirements.
Because of that, many clients who came to our office for a consultation, found out that they will not obtain a residence card or that is a possibility to get a negative decision. We think that many negative decision in the government office in Poland are connected with applications for a residence card on the basis of an economic activity.
What conditions the company must meet?
The act form 13rd of June 2003 about foreigners (consolidated version: Dz.U.2011 r. Nr 264 poz.1573)
Art. 53.1. A residence permit is issued for a foreigner who:
1) has a work permit or a written statement about intention to delegate work to a foreigner from an employer if a work permit is not required
2) run out an economic business  on the basis of law in this matter in Poland, beneficial to the national economy, especially contributing to the growth of investment transfer of technology, introduction of beneficial innovation or creation of new workplaces
4. A foreigner about whom is in ust.1 pkt.1, who work or who is intend to work in own limited partnership, company limited by shares, limited liability company, joint-stock company or in company for whom he joined or got its shares or stocks is obliged to show that the company meets conditions from ust. 1 pkt.2.
What it means in practice?
the company must be working, to make money, to show turnover on the account and it is an obligation to document it in the application

the company must employ polish workers and at the same time to create new workplaces

the company should invest in Poland
During the procedure connected with the application for a residence card on the basis of an economic activity, a foreigner may be call for a hearing to the government office to complete evidence. During a hearing a foreigner should know answers for questions connected to his an economic activity and about plans of development of the company.  A professional business plan is an additional asset.
That is why we encourage you to a consultation before submitting an application for a residence card. In many cases it will avoid negative decisions. There are  more circumstances on the basis which you can apply for a residence permit in Poland and it is worth to know about it.
Powrót